Today's Gardener (todaysgardener.com) participates in the Amazon Services LLC Associates Program.
When we think about the color brown, it is usually associated with fall and all its festivities. Crunchy brown leaves, hot chocolate, pumpkin spice and Thanksgiving. And while brown does look most stunning when combined with colder weather, it can be a very elegant and classic color choice throughout the whole year. Especially when it comes to flowers!
This color may not be the first thing that comes to mind when you think of flowers, but here are 25 different brown flowers perfect for making your garden or arrangements special.
"Charlie Brown" Orchid
Soleil d'Or Rose
Iris germanica
Honey Spurge
Oriental Poppy
Tropical Hibiscus
Chocolate Orchid
Absalon Tuliph
Cattleya velutina
Cymbidium aloifolium
Gladiolus
Rudbeckia "Sahara Mixed"
Daylilies Hemerocallis
Dahlia
Echibeckia "Summerina Brown"
Ophrys ariadnae
Japanese Arisaema
Antler Orchid
Charlie Brown Rose
Feather Reed Grass
Viola Bronze
Columbines Aquilegia
Flowering Tobacco
Decipiens Piaranthus
Chocolate Cosmos
You have to admit that this list is already looking very interesting.
1. "Charlie Brown" Orchid
Orchids are always a classic choice, but it's a great way to make your more memorable if you choose to have it in brown.
Under the "Charlie Brown" name there's a variety of 50 different flowers, all with a different color combination. Ranging from light to deep, with all different shades of yellow, burgundy, green and orange, each of the petals has its own variation of brown.
When you do get it, it's important to take proper care of the plant.
From late spring up until the end of summer this orchid prefers to be outside, in a moist environment with a lot of shade.
During the rest of the year, it's recommended to keep it close to a window and a humidifier.
Another plus that Charle Brown orchids have is that they belong to the Cymbidium variety of orchids, known to be the longest lasting variety of commercially available orchids.
2. Soleil d'Or Rose
If you prefer to have some more gentle tones in your flower arrangements and garden, then this brown variety of roses might be just the right choice.
The Soleil d'Or Rose is a kind of roses known for its light orange, yellow and peach colors, which together make the nicest shades of soft brown.
Besides the beautiful demeanor, this flower also produces a strong, citrus spiced fragrance.
However, this beauty doesn't come with low-maintenance requirements.
Dating from the 19th century, this variety is known to be prone to blackspot, but it's also considered to be worth the effort, since having the combination of the fragrance and the looks is something quite special.
And while it would be better to get some experience before you commit to this plant if you're a beginner, it's a perfect choice if you're a plant veteran and collector!
3. Iris germanica
Irises are mostly known as a purple and lilac flower, sometimes yellow, but the petals of this plant can take an unusual turn and go well beyond that.
Also known as "Bearded Iris", this variety is known for its bi-colored petals. While the upper part of the flower tends to be light and more pastel, the lower part is more deep and saturated, or even has two contrasting shades.
If you decide to upgrade your garden with these beautiful flowers, plan to plant them throughout the later summer months, from July until September.
Water and maintenance needs of this flower are mostly average, so it will not be too big of an effort to keep up with it.
During the summer is also when you should expect to have your flowers bloom and show their beautiful brown tones.
4. Honey Spurge
Also known by the botanical name Euphorbia mellifera, this semi-evergreen plant will be the right choice if you need shrubs for your garden.
While in winter and the colder months it will mostly stay green, when summer comes Honey Spurge blooms with yellow, rich brown and burgundy flowers.
With brown flowers also comes a strong honey-like scent!
When it comes to proper care, this tropical flower native to Canary Islands prefers to be in full sunlight, potentially partial shade.
Depending on the sunlight it gets, it can vary in shape.
If kept in full sunlight it will develop a denser and more compact shape, and if kept in a more shady place it will grow taller and looser.
When adding this brown flower to your garden, choose to plant it during either spring or fall.
5. Oriental Poppy
For a couple of thousands of years, Oriental Poppy has been a frequent part of people's gardens.
While it is best known for its vibrant red color, this flower can also provide you with some brown hues.
Alongside the charming looks of this flower, there's another good reason to add this to your collection of brown flowers – Oriental Poppy is very easy to take care of.
The only important requirements are not to overwater it, and not to move it around.
Before you plant it, make sure that you're going to like it in a certain spot for a long time, because this one will not tolerate being moved around.
Oriental Poppy will blooms during spring and fall, so these will be the best times to have it in floral arrangements or in a bouquet. It will be nice and fresh for any occasion needed!
During summer, these flowers go dormant and "die", as they can't handle the heat.
But, you don't need to worry, as they will get back in the fall, even more beautiful.
6.Tropical Hibiscus
Hibiscus tea is a drink enjoyed all around the world, but did you know that it can also be one of the beautiful brown flowers perfect for your garden?
Tropical Hibiscus, also known by the botanical name Hibiscus rosa-Sinensis, is a flower that will provide you with beautiful vibrant colors you need for your garden.
With shades ranging from vibrant yellow all the way to deep burgundy and brown, it's perfect for the garden!
It also comes in colors like purple, orange, pink and red.
An interesting characteristic of Hibiscus is that it blooms and produces flowers constantly, yet each flower lasts only one day.
This can be a good thing, as you will always have a fresh brown flower waiting for you!
7. Chocolate Orchid
Also known as Orchidum Sharry Baby, here is another orchid that you can consider when searching for new brown flowers for your garden.
The color combination of Chocolate Orchid is very interesting, with the upper half of petals being brown, and a big one on the lower half being white.
If you find this brown flower beautiful, you will be happy to know that compared to other Orchids, this one is quite easy to take care of.
It needs a lot of watering and a place with not too much light, and it actually thrives in most temperatures.
When it comes to potting, terracotta pots will be the most reliable.
If you keep up with the care regimen, you will have a perfect brown flower for your floral arrangements, either bouquet style or in an elegant box.
This one will provide you with a beautiful chocolate fragrance
8. Absalon Tulip
One of the most popular flower types – tulips – has finally made its way to this list!
Also known as Rembrandt Tulip, this is a perfect addition to any garden, with its quite unusual looks.
This one has two colors, yellow and rich brown and burgundy shades, and if you already have tulips having this one too will give an even more special look.
When it comes to maintenance, the most important aspect is to keep the flowers in full sunlight.
What's most special about this variety of tulips it's the fact that it's one of the rarest of the kind.
Native to Africa and Euroasia, this flower is now grown on Mount Vernon.
Absalon Tulip blooms in spring, so this is the season when you can expect to have it on hand as a beautiful gift for any occasion – from an everyday walk to the florist to a wedding, tulip bouquets are never a mistake.
9. Cattleya velutina
When it comes to brown flowers, it seems that Orchids are the group that just keeps on surprising.
Cattleya velutina is an exotic member of the family with quite an unusual coloring.
The petals light brown, purple, white and yellow, with rich brown and burgundy spots and it comes from Brazil.
As the looks imply, this is a very rare flower, and it's exceptionally hard to find it in nature.
The fragrance it produces is as vibrant as its colors too!
If you happen to be lucky enough to come by it and decide that this is one of the brown flowers you have to have be sure to keep good care of it.
Cattleya velutina likes intermediate to warm temperature, and to be in a position with a lot of shade.
Be sure to not overwater it, but rather wait for the pot to dry completely before watering this flower again.
10. Cymbidium aloifolium
Another orchid, also known as Aloe-leafed Cymbidium, is one of the brown flowers coming from Asia, specifically eastern parts of the continent.
Petals of this flower are thinner than most Orchids, but the colors don't lack in vibrancy at all.
The borders are a stark white, but the middle is colored with deep brown and burgundy colors, with a beautiful pop of yellow in the middle.
Together with the unusual look of this flower, it's very interesting that this was the first kind of Cymbidium to be described in Europe! It's really exciting to have a part of history in your floral arrangements, bouquets and gardens, isn't it?
It blooms during summer and in its native region it is usually found on mountains, and between rocks or piles of moss.
However, when you add it to your collection of brown flowers at home, you should grow it in intermediate to warm areas with medium to bright light, and avoid excess watering during winter.
11. Gladiolus
Gladiolus are flowers that come in a wide variety of shades, and brown happens to be one of them.
When it comes to these brown flowers, the coloring is more of a light brown leaning on orange and peach tones, with hints of red, yellow and purple.
Gladiolus are certain to be found in your local florist shop, and a perfect item to be given as a gift, especially throughout August.
If you plan to have the flower as a part of your home, then be sure to water them regularly during summer, and to protect them during winter.
Another great tip is to plant them in the back of the garden, as they grow quite tall.
12. Rudbeckia "Sahara Mixed"
If you wanted your new brown flowers to be more of a bouquet kind, with a lot of smaller flowers in a bundle, the Rudbeckia "Sahara Mixed" is a great choice.
Having these in your garden can be really convenient since they don't require too much attention and they even self-seed pretty efficiently! So, count on having new and fresh brown flowers for various occasions.
When it comes to coloring, expect a range going from yellow to orange to a bronze brown color, with the center always being a deep brown.
These will also come in handy for making bouquets, as the stems are naturally creating one.
You can expect them to bloom from mid summer to early fall, or if you don't plan on planting them, try to browse the florists shop or online during that period.
13. Daylilies Hemerocallis
Daylilies represent what a lot of people like to call the perfect perennial.
This beautiful flower is best known for the low-maintenance it requires.
It's tolerant to almost any environmental condition, and with that it also provides you with pretty looking petals.
Its name is what this flower is best described by, because once it blooms it lasts only for a day.
It is also present throughout most of the year, blooming from late spring all the way until the end of fall, so you can count on it for both your garden and arrangements.
You can expect a wide variety of color with this one, lilac, yellow, orange, red, pink and most importantly, brown hues.
14. Dahlia
Dahlia is a well known flower, and is an inevitable option when searching for brown flowers.
While it also comes in bright colors such as red, yellow or pink, Dahlia also goes to deep brown shades and even black!
The petals are small and usually get darker the closer they get to the center, and with such looks these flowers can make a beautiful bouquet, addition to the garden and of course, a gift.
Dahlia usually blooms during summer and fall, and if you decide to plant this brown flower, you should be careful not to overwater them, and find them a spot where they will have full sun exposure.
But, you might want to reconsider Dahlias if you currently live in an area that has a pretty warm climate (like Texas, for example).
15. Echibeckia "Summerina Brown"
When you look at this flower, it probably looks familiar, as well as its name.
And yes, it does look like the already described Rudbeckia.
This flower is actually a hybrid of two different plants – Rudbeckia and Echinacea.
Combining the two gave the result of longer lasting and larger flowers, and also a longer blooming season.
But most importantly, it resulted in an even deeper tone of brown, from the center being almost black to the tips of the petals which are still a nice brown shade that's only leaning towards orange.
The care level required for these flowers is moderate, so you will have to be sure to find them a place that they like.
This means that you should be careful not to overwater them, and also keep them somewhere where there's both full sun exposure and a partial shade.
16. Ophrys ariadnae
Ophrys ariadnae might be the most unusual brown flower so far.
Both the shape and the petals are quite specific and not often seen among plants.
Judging by the pattern you will come to the right conclusion that these flowers are a rare kind.
They are endemic to Greece, and even the name the flower holds stems from Greek mythology.
Blooming period for these flowers is also a bit different.
Ophrys ariadnae first blooms as early as February and does up until April, so if you find yourself on the greek islands during this time, specifically the island of Crete, you may get a chance to see it in nature.
It is almost impossible to find them online on a website, so the chances of Ophrys ariadnae being delivered to your address are basically non-existent.
Either way, it's stunning to learn about new and unusual flowers!
17. Japanese Arisaema
Next on the list is yet another unusual and rare family of flowers – Japanese Arisaema.
Green stems, which transition into deep brown petals form a tubular structure, and in the center of it stands a white rounded spadix.
These flowers can be also found under the name Japanese Cobra Lily, which is a good disclaimer as the roots are poisonous and contain a chemical called calcium oxalate, so you should be careful.
If you are not a beginner and know how to be cautious enough, you will be delighted to know that Japanese Cobra Lily is actually one of the low-maintenance kind of flowers.
They require average amounts of watering and only some partial sun exposure, so you can consider them a very special addition to your collection of brown flowers.
18. Antler Orchid
If neither of previously mentioned orchids were to your taste, and you would still like to have one among your brown flowers – here is yet another member of that wide family.
Antler Orchid, also known by the botanical name Dendrobium discolor, is an orchid native to the southern half of the globe – Australia, New Guinea and Indonesia.
There, it grows on dunes and rocky parts of mountains.
The coloring is an interesting characteristic when it comes to these flowers – mostly the main parts of the petals are different shades of yellow but the majority of that space is taken by various shades of brown dots.
As its origin suggests, Antler Orchid requires to be exposed to a lot of sunlight, preferably close to a glass window, or in a glass house or even next to a source of strong artificial lighting.
19. Charlie Brown Rose
After quite a few unique flowers, a classic has finally made its way to this list – the Charlie Brown Rose.
This rose, as the name suggests, has light and pastel brown hues, together with peach and white shades.
Even though a rose will always be a classic, what makes this type special is its miniature bloom.
When fully open, the roses are less than 2 inches wide, which looks rather elegant because they grow in shrubs.
These roses will also give a strong fragrance, so if that's what you look for in your flowers this will definitely be the right choice.
Charlie Brown roses can be in bloom during all seasons except winter, so it is a safe choice for all kinds of occasions, even a wedding.
20. Feather Reed Grass
While this is a type of grass and may not be as aesthetic on the first glance as most previously mentioned flowers, this plant may be the exact missing piece of your brown collection.
Easily found in any local shop, Feather Reed grass can be added to any arrangement, creating a perfect decoration for any space.
Maybe you can even find a place close to you where it grows, or you can even grow it yourself as its incredibly easy to do that.
21. Viola Bronze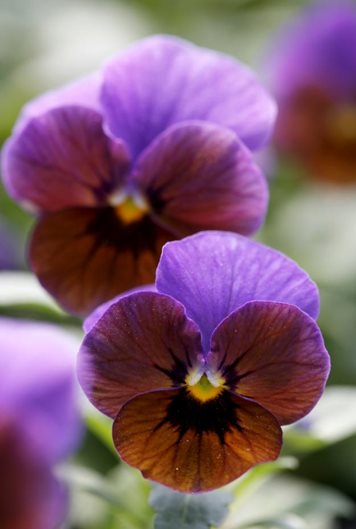 Violets are well-known and well-loved flowers, and besides the obvious lilac coloring, some variations also develop brown and bronze shades.
The brown part usually goes in the center while the remaining petals stay blue or violet.
This kind of violets is known to have the biggest flowers when it blooms, but that is not the most interesting fact about it.
While it will certainly look stunning in bouquets, Viola Bronze is also edible!
You can have that in mind when you are in need of garnish and food decoration, and remember to save them when you come across them.
Since it's one of the more tolerable flowers, it won't be a bad idea to even grow these on your own.
22. Columbines Aquilegia
Aquilegia flowers are usually known for the variety of blue shades and colors it provides, but it happens that there also is a brown twist to that color story.
As this plant tends to self-seed relatively efficiently, it may be the case that you already have it among the flowers in your backyard.
But if not, it won't be a problem to do so yourself, as these flowers are extremely easy to plant, and to take care of.
Usually found on the slopes of Alpes, they are more than tolerable to any condition and situation.
23. Flowering Tobacco
While family members of Flowering Tobacco are grown in a different industry, and for a very different purpose, these flowers are a very popular species amongst flower enthusiasts for many different reasons.
Firstly, Flowering Tobbacco comes in so many various colors, even deep burgundy and brown shades.
Secondly, with the beautifully shaped flowers comes an amazing fragrance.
And finally, they are low-maintenance flowers.
However, one thing to keep in mind especially if you have pets or children, is that the flowers can be poisonous if ingested, so don't forget to keep a close look when needed.
24. Decipiens Piaranthus
This exotic flower is native to the South African region, and also a type of succulent, which makes it even more unusual among the more classic kinds of flowers on this list.
As a succulent, this one is not too hard to be taken care of and will most likely thrive in any environment full with other succulents.
Together with the beautiful petals and the vibrant red center comes an exceptionally strong smell – a sweet, almost nauseous fragrance, present only in the evening and undetectable during the rest of the day.
If you choose to acquire this to go along with your other flowers, it is guaranteed that you won't ever find it boring!
25. Chocolate Cosmos
With flowers that have the most special name, we have come to the very end of this list.
Brown and red petals and a starry white center make these flowers look quite special, and that's not where the specialty ends.
The name stems from the chocolate scent this flower produces, and it is a very accurate scent so Chocolate Cosmos flowers, also known as Cosmos atrosanguineus, are undoubtedly going to be a favorite among chocolate flowers.
Another nice thing is that butterflies are attracted to the flowers, so you can expect them often.
In terms of care, make sure there are 6 hours of full sunlight and just be careful to not overwater it.