Landscape ceilings capture attention by introducing new colors, shapes and textures, opening room for creative decorations. That's why many people display plants lavishly in this way to embellish their living space.
Drilling holes is the first obvious way you can hang your plants from the ceiling. However, if you are currently renting a flat or you don't want to ruin the ceiling and possibly damage pipes or wires, you might want to consider some other solutions.
Suspending plants from the ceiling requires some creative thinking. Here are some exciting ways in which you can hang plants without drilling.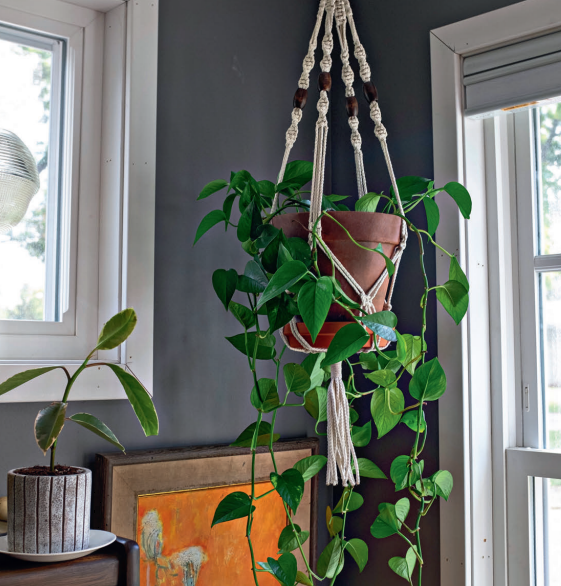 20+ Ways to Hang Plants without Drilling
Hang Plants on Coat Racks
A coat rack can serve another creative purpose apart from keeping your clothes. Coat racks are lovely ways to hang plants, too. You will have a lovely ceiling without drilling holes. The only thing you need are strings that are strong enough to hold the plant's weight.
Recycled T-shirt Hanging Planter
Even if you don't have enough space on your shelf or windowsill, you can always hang a plant from the ceiling, a wall or a window with hanging pots. Regular terracotta pots work very well for hanging planters, but salad bowls that are round on the bottom also look good.
You will also need four 3-metre lengths of fabric yarn, which you need to fold in the middle and tie together. You can always use an old cotton T-shirt to create fabric yarn.
Ideal species for hanging planters are Pilea with a very ornamental look and Tradescantia with her rich colors and patterns.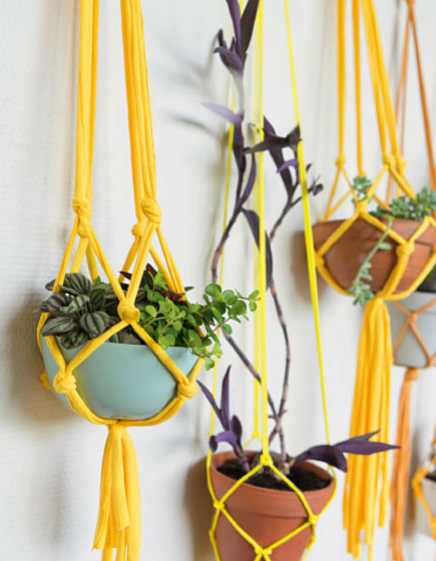 Botanical Frame
Highlight the graphic beauty of a plant leaf with this very easy-to-make botanical frame. For this you will need Plexiglas, black electrical tape, a fake leaf (fabric or silk) and scissors. Of course, you can use a real leaf, but the result won't last as long. A thin, dried leaf is a better option.
Position the leaf on one sheet of glass and place the second sheet of glass on top. Tape the edges of the two sheets of glass together – and that's it. Admire the result and give it a nice spot.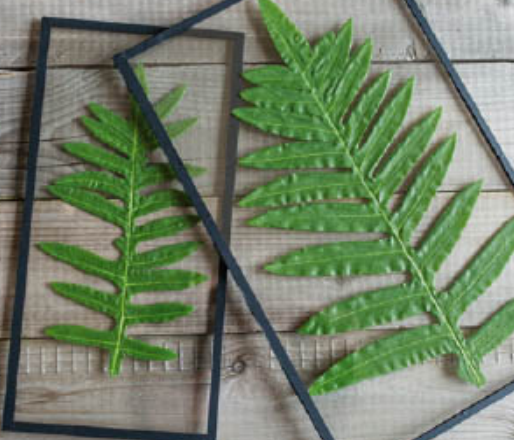 Using S-hooks without Drilling
Hanging plants with special hooks is easy and fun. S-hooks are a great option to hang your plants wherever you want. We decided to use a wooden stick as the tension rod that holds onto both ends of the room and hang plants onto the S-hooks.
This is ideal for a kitchen, for example. Choose plants that like the light exposure a kitchen has to offer and increased humidity. If your pots are heavier, you will need stronger hooks.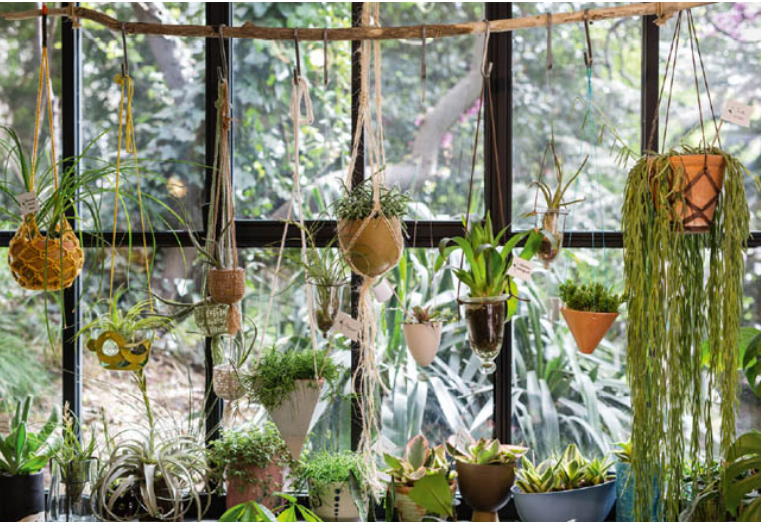 How to Suspend Plants with Adhesive Hooks?
An adhesive hook is a contemporary option for lightweight plant pots without drilling. You can purchase the regular adhesive hooks or adjustable hooks. Both options are affordable, and extremely useful for decorating your indoor space. They are adjustable and repositionable, so these qualities make them perfect for hanging plants. 
What you need to do is peel the adhesive backing off and stick the hook against the ceiling. Check the rated capacity of it, since you will only be able to hang lightweight plants like this, around 2 kg.
Hanging Plants from Ceiling with Magnetic Hooks
A magnetic hook has a metal plate attached to it so you can display it onto an air vent, air ducts or metal fixture from the ceiling. Use a loop to hang your plants over the attached hook.
Another option is to use a wall magnet or magnetic pots, which is great for hanging plant babies on your fridge, walls or other smooth surfaces.
Hanging Plants with Suction Cups
A suction cup pot can only work if you want to hang your plants against the glass surface such as windows. But still, you don't need to drill holes in your wall and your plant will happily receive bright indirect light next to such a window.
You will need pots that are lighter than 2 kg. In case you've got a skylight, hang plants for a contemporary look. Suction cups are perfect for it, but adjustable hooks and magnetic hooks can also work.
Hang Plants on Old Wooden Ladder
Why dispose of an old ladder if you can make creative use out of it? For example, you can use them for hanging plants.
The boards of the ladder serve as tension rods for you to hang plants. Simply use an S-hook and experiment with different positioning of your plants to get a harmonious arrangement that stretches from the floor to the ceiling-without drilling.
Attaching Carpenters Clamps to Walls
Another easy way to hang plants is to wrap the C-clamps around a drywall around 7 cm from the ceiling. Next, hang plants on the C-clamp bar but don't tighten it all the way. You will have a beautiful ceiling without drilling any holes.
Hanging Plants against Over-the-Door Hooks
In case you have some empty doors, you can find them a creative use. Put over-the-door hooks on the door and hang plants onto them. Test the weight limit of the hooks and don't hang plants that are too heavy as the hooks won't stand it.
You can also do this with unused kitchen cabinets for bridging gaps between an ordinary and modern look. For this you will need wall mounted hoods with a command strip.
Hanging Kokedama
Making your own kokedama, or Japanese moss balls is quite easy. They are perfectly suited for humidity-loving medium sized plants like ferns, orchids or ivy.
In a nutshell, in order to make a hanging plant kokedama, you'll need to remove the soil from the plant you have chosen, wrap the root ball in moist sphagnum moss and then into moist all-purpose compost and Akadama soil to shape it into a ball. Finally, bring the sides of the sheet moss up around the ball and secure it by wrapping the string firmly around it. Now it is ready to hang up.
Macrame Hanger
The art of decoratively knotting cords and rope can be used to create a simple hanger to display your favorite houseplants.
You can use wooden beads, cotton cord, metallic beads or unbleached rope. You will also need a wooden ring, S-hook, non-stretch cord or string, 8 wooden beads and a decorative pot, scissors and ruler.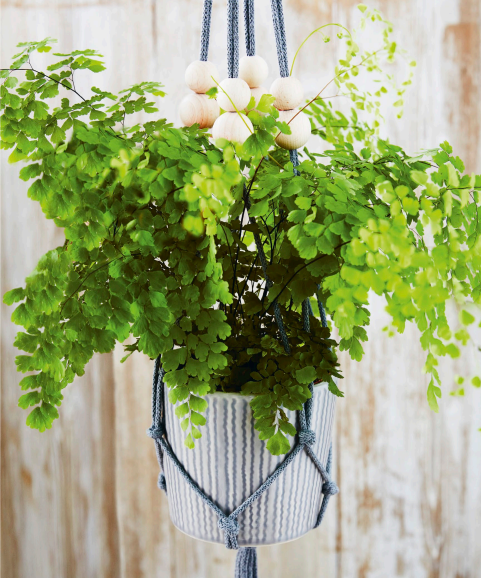 Before displaying your plant, test its weight by gently lifting it up by the S-hook. The wrapping knots should hold firm.
Tension Rods for Living Space Divider
A moveable trailing plant space divider is a great way to create a beautiful temporary wall or living screen between different parts of your indoor space.
Ideally, you want to use multiple plants that are bushier in appearance for this that prefer bright indirect sun like string of pearls and mistletoe cacti. Also use macrame hangers. You will also need free standing clothes rail, tension rod, string, S-hooks, decorative pots, scissors and watering can.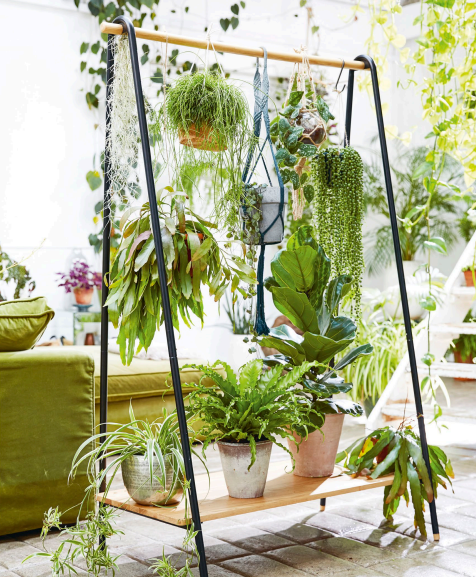 You first want to gather the three strings together and tie a secure knot, then form a small loop with the excess string. Slip an S-hook through the loop and hang it on the clothes rail. Make sure your place is draught free. Don't forget to prune the plants regularly.
Test Tube Propagator
Test tube propagators are great ways for getting the stem pieces to root in water. They are attached to small pieces of wood and then hung against the wall. One tube can root one cutting. Test tubes are easy and quick to make and very affordable.
Choose the front side and turn it over to nail the sawtooth picture hanger at the top of the round. Add a bumper to the bottom of the round below the hanger so it will hang level on the wall. Use a regular glue (not hot glue gun) to glue the test tube to the wood.
Plants to try with this: Pothos, Heart leaf philodendron, English ivy, Tradescantia, Lucky Bamboo, Spider Plant and ZZ plant.
TIP: Remember to keep adding water.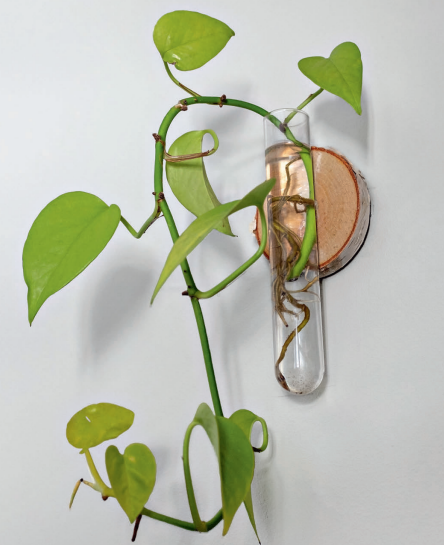 Swinging Plant Hanger
Swinging plant hanger features a nice combination of the wood, metal and string. It will be done in no time and it is perfect for an air plant. You will need 20 cm metal rings, wood round, macrame bead, cotton macrame cord or twine, hooks, marker, ceiling hook and an air plant.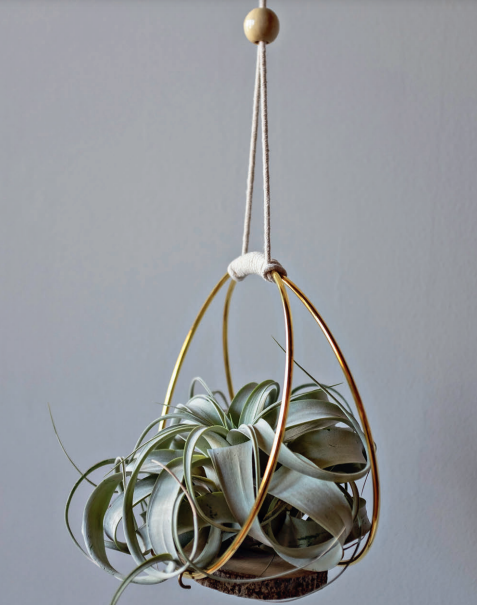 First you need to wrap the cord around the rings to bring them together. Once you are done with the rings, add the wood round to the bottom of the rings and attach the cup hooks to the wood round, making sure that the distance between each is equal (use a marker) and all the hook openings should be pointed down.
In case you want to use a bigger container, double the rings on each side for added strength and find cup hooks that are heavy duty.
Plant Shelves
Plant shelves are fun to make and even more fun to decorate mundane looking walls. They can be of the same or different sizes, but always make sure to choose plants that work with the amount of light you have to offer. If not, use a small clip-on light.
Once you have measured the boards, cut them and assembled the shelves, fasten two sawtooth picture hangers to the top edge of the top board on the back of the shelf. Stick two rubber bumper pads to the bottom edge of the bottom board on the back of the shelf.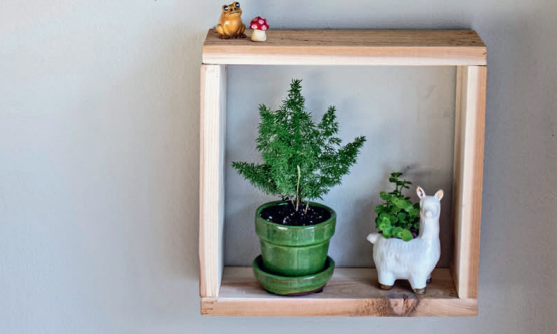 Planted Wall
Think vertically and hang a carpet of pretty plants up the wall, all growing in their own special, individual pockets. You can grow a mix of herbs, soft fruit, vegetables or ornamental plants that can be planted in early spring: rosemary, sage, garlic chives and similar.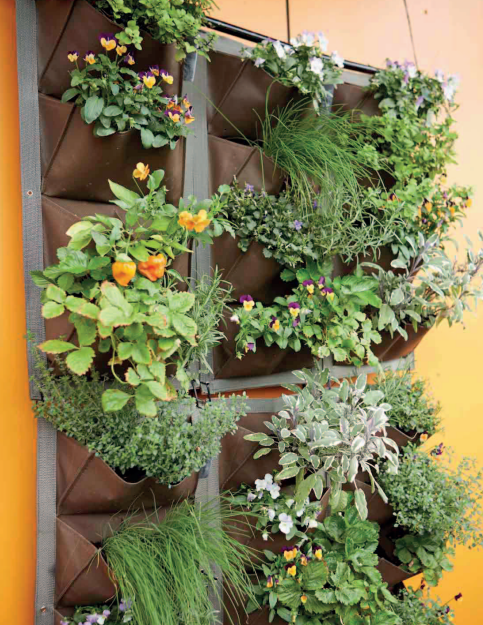 Potting plants in the pockets is the same as potting in regular pots. You need to firm all purpose potting mix around the plant and water well. Add diluted liquid feed to the water monthly during the growing season and mist with the mixture.
Plastic Chandelier
This is a very stylish and contemporary living chandelier that works great for Tillandsia tectorum, Tillandsia ixioides and Tillandsia aeranthos. The reason they do so well is because they need no compost and they thrive in low light, but slightly higher humidity.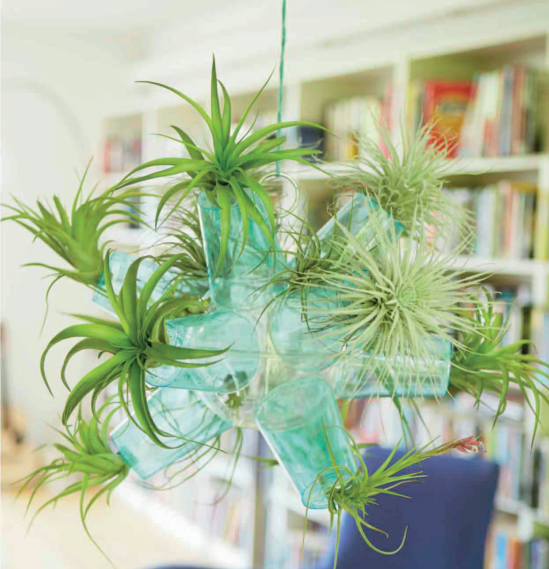 Simply make holes in the base of the cups and use superglue to hold the cups together. After it has dried, attach air plants to the base of each cup and use the sealant around the rim of the hole.
To hang the chandelier, cut a length of golden twine, thread it through the hook of the globe and tie it off with a secure knot.
Hanging Plants Wire Chandelier
Make a different type of chandelier with your own foliage, orchids and ferns. Hang them above in full view.
First of all, make a careful selection of plants (Hedera helix, Croton), and then get wire holder, liner, sheet moss, potting soil, water mister, scissors and loose reindeer moss.
Start by layering the larger pieces of sheet moss into the wire cage. Slide the jute liner through the wire opening and place it onto the moss. Add your previously watered plants, firm with soil and mist. Make some final arrangements and there you have it, your bundle of plant perfection.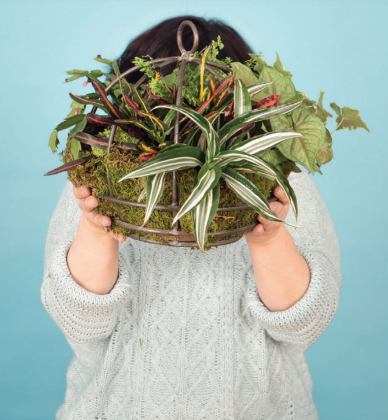 Hanging Glass Globe
The outstanding glass globe is full of possibilities for an endless number of creations. Whatever you put into this encompassing glass, world appears wonderful.
Many house only air plants and gravel, while others have succulents piled inside. It is also an arrangement that is the easiest to care for with the squeeze of a water mister only. You will need oval glass globe, gravel, potting soil, sheet moss and shovel, if you want to use other plants that need soil.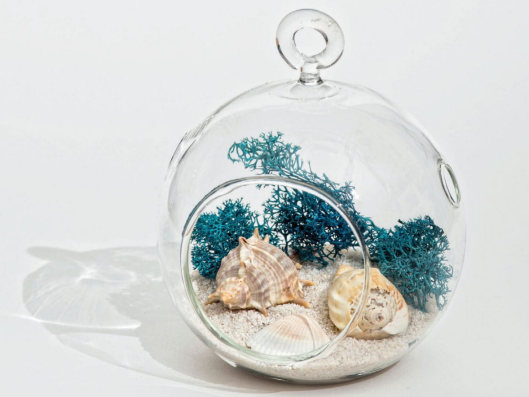 Moss Frame
Making a moss frame is easy peasy. You will only need a heart-shaped wood frame, reindeer moss, glue gun, extra glue sticks and scissors.
Hold the moss and heart-shaped paper tightly with your fingers and cut the moss. Put the paper back in the frame and it will be your base to glue the moss onto. Check if you have cut it right.
Apply a thick line of glue on the paper and some in the center and place the moss onto the hot glue. Press lightly and wait for the glue to cool and harden.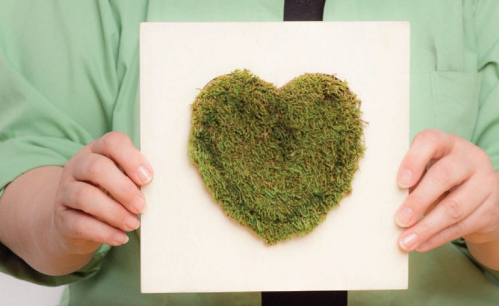 Final Words
Plant styling is identical to other styling projects. It is the combination of colors, shapes, sizes and textures that makes the difference and has a visual impact. So, why use the regular metal beams or a stub wall when you can have a lot more fun experimenting?
Suspending your plants from the ceiling will give your home authentic look. The result should be a well-composed arrangement with a dominant plant, an unusual planter or a salient decor object.
I am sure you can find a great solution for a beautiful ceiling in this article, either using a magnetic hook, coat rack, pre stickered hooks, rubber caps, an adhesive hook or a metal grid track. Try some of them and you will have the impression of living in eternal spring.