Fall is the season that brings many breathtaking colors once it rolls out.
As fall flowers are an unavoidable element when it comes to decoration, here are 32 ideas for the best fall flowers for pots that can enhance your indoor garden this early fall!
1. Dusty Miller
As the first example in this article, Dusty Miller is a leafy plant that has a shape resembling a snowflake, which is a really appropriate choice for your fall container plants. The foliage is silvery grey which will make it a great and interesting fall pots addition.
These fall container plants are incredibly resistant and drought tolerant which is a reason more to add it to your container garden in fall. Make sure you plant it in well-draining soil so you avoid the roots rotting. When the roots are developed and the plants are growing, you shouldn't water it too often.
2. Amaranthus
Red is a staple color when it comes to fall decoration, so here are the perfect plants to bring to your fall container gardens. Amaranthus is best grown when the fall pots are full of well-drained soil and in full sun to part shade.
It blooms up until the first frost so it can be good for most of the fall. Having it in either your hanging baskets or a fall container will enhance the look of your home during fall.
3. Celosia
This fall flower is best known for its red tones, but Celosia can actually come on mustard yellow, pink and orange, too, which are just as fitting when it comes to the best fall flowers for pots. Celosia flowers usually last up to a month, and will need occasional deadheading. They have a spring and, of course, a fall bloom.
When planting them, make sure that the soil is well-draining and rich, and water them regularly. Besides that, Celosia tends to be a quite supple flower. One ornamental thing you can do with these fall flowers for pots, and fun activity too, is to dry them and use them as such for your fall and winter decorative needs.
4. Cosmos Flower
Next on the list is a plant with sweet, purple fall flowers with an extraordinary name – the Cosmos flower. An amazing choice for the best fall flowers for pots, Cosmos flower blooms from early spring and stays beautiful and fresh up until the first frost.
The main requirement is to be careful not to overwater or over-fertilize them, and to deadhead them whenever needed. As it's a self-seeding plant, it may become weedy, so look out for that.
5. Dianthus
If you wanted fall flowers for pots that have multi-colored petals for your fall container, then Dianthus might be what you're looking for. Leaning more towards pink rather than red, Dianthus plants are often used for hanging baskets, and fall flower pots and containers.
What makes it perfect for fall container gardens is its fragrance – cinnamon and clove notes as the most prominent. It can be annual, biennial, or perennial depending on the variety. They need around 6 hours of full sun, so you can plant it anywhere the pot gets as much sun during the day.
Related: Hold Your Breath as 15+ Most Fragrant Flowers Are About to Enchant You!
6. Pansies
Pansies are some of the best fall flowers for container gardens, not just because of their colors which tend to vary between rich purple and burgundy, but also because of the fact that pansies prefer winter, fall and cold weather to summer.
These fall flowers are extremely resilient, staying nice in their containers and being healthy houseplants even when the weather is freezing during cooler temperatures. Pansies love to be in full sun, and to be watered regularly – keep in mind that pansies can die due to not having enough water.
7. Witch Hazel
If you are into skincare, then this plant is probably very familiar to you, but did you know that besides being used in cosmetics, this one can actually be the perfect resident of your fall container garden?
You probably didn't expect to find it in this kind of article! This one is a shrub plant, but can also be used in container gardens.
During the winter, it gives off a strong fragrance and has bright flowers. Witch Hazel is basically maintenance-free and not at all prone to diseases and pests. It's best to keep its pot in full sun.
8. Sedum
Sedum is a green-yellow plant, best known for how easy it is to take care of it. There are many varieties available, and whichever one you choose it will surely be a great choice for your fall garden and containers.
To have Sedum thriving, make sure you don't overwater it, and that's mostly it. Depending on the variety, they can grow as little as a few inches, but can go up to 3 feet tall.
9. Japanese Toad Lily
Here we have highly unique purple flowers, made to bring an exotic touch to all fall containers. Japanese Toad lilies have purple and white spotted petals, and a yellow-orange center, which is usually the color scheme we want to have in our planters when assembling our fall flowers for pots.
The stems are upright and arching, and these lilies are the type of plants that grow taller in consistently moist soils. Japanese Toad Lily blooms in fall, which makes it one of the best fall flowers for pots.
10. Monkshood
Monkshood is another one of the purple flowers perfect for fall containers. They usually grow from 2 to 4 feet tall, and it's one of the perennial plants. Besides the purple flowers, these plants can sometimes be found in white or yellow, too.
Be aware that Monkshood doesn't like being moved at all, so when thinking of a place for it in your garden, be sure it is a permanent solution. It prefers conditions similar to the ones in the wild, cooler temperatures, which means you don't have to water it too often and use well-drained soil in the containers.
11. Balloon Flower
Balloon Flower is another purple fall flower among the perennials that should find its way to your container garden. They can grow tall anywhere between 1 and 2 and a half feet tall.
Soil should be well-drained, and the plants should be kept in full sun. Make sure you're watering consistently, but not keeping the containers soggy.
12. Hardy Fuchsia
Hardy Fuchsia with its bright pink flowers and magenta tones can be a great pop of brightness among some of your best fall flowers for pots. The name "hardy" comes from the fact that this is a perennial and more resistant alternative for the annual and tender variety of fuchsia.
This is a flowering shrub plant, and its foliage is green and oval. Hardy fuchsia blooms in spring and continues blooming all throughout summer and of course fall. The area the plants are in should be with well-drained soil, and in part shade. These fall flowers are great for hanging baskets, too!
13. Dahlia
Dahlia is a fall flower that comes in a variety of colors, yellow, orange, pink, red, purple, brown and it even has black flowers in some cases, so whatever you may need for your fall container garden. If you decide this one should be among the plants in your garden, then make sure you don't overwater them, and find a spot where Dahlias can get full sun exposure.
As expected of a fall flower, Dahlia doesn't like being in a climate that's too warm, so you should take that into consideration when shopping for new plants for your fall container garden. But, at least something like frost won't be a problem!
14. Sunflowers
These plants that have been grown for centuries and used mostly for nutrition, have become the primary aesthetic flower on social media over the last few years. So, when deciding what you want in your container gardens, it is only natural that you look for sunflowers.
When it comes to growing them at home, they are easy to care for in any garden. Firstly, be careful when choosing which variety you want to plant, as some can grow to be even 12 feet tall. As the name suggests, you should have them in full sun.
15. Gomphrena
If you want your fall flowers for pots to have a hint of a pink color, then you might like the looks globe-shaped flowers like the Gomphrena. In most zones, these flowers are annual, and they like being in dry conditions, so the soil should be well-drained.
Make sure it receives at least 6 hours of full sun each day. Besides that, Gomphrena is very low-maintenance and won't be too much work at all. Gomphrena is often used when dried, to make flower arrangements, so when its blooming season ends, you can use it as decoration this way, too. So, when the frost hits, you will have new ideas to create and play with.
16. Chrysanthemums
Another one of the widely known fall plants, Chrysanthemums, also known as "mums", usually appear in the garden during September and October, which makes them perfect for your fall container garden. You can find the flower blooming in an array of colors, like orange or pink, while the leaves are a mixture of green and blue.
Their heights go between 1 and 3 feet, and for the best results find them a place with full sun exposure. The soil should be well-drained and evenly moist, but not at all overwatered.
17. Helenium
Colored perfectly for any fall-themed garden, Heleniums are guaranteed to bring the brightness back in on any rainy autumn day. To have them grow to the best of their abilities, have them be in well-drained soil, and water regularly to prevent the container garden from drying up.
You should really make sure the soil doesn't dry out, as that can cause that can lessen their chances of survival. Heleniums can do well even in shades, but it's even better to have them somewhere with some sun, too.
18. Japanese Anemones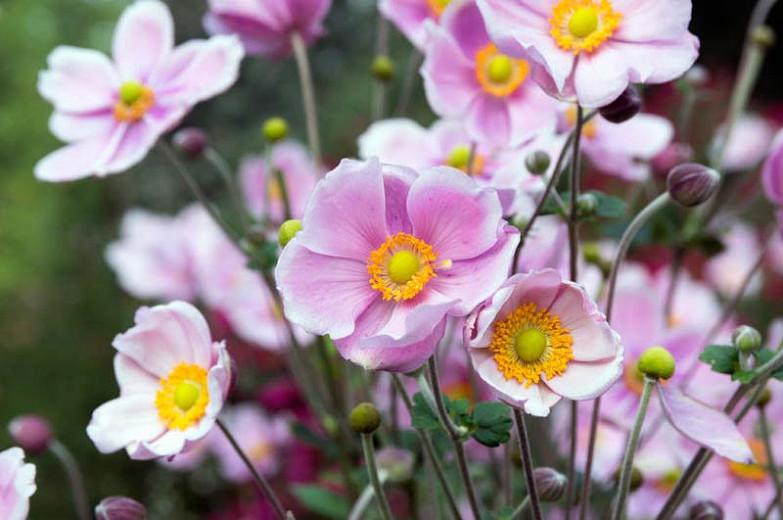 If you want a container garden that will be the perfect fall photo, but you are also a fan of pastels, then Japanese Anemones are fall flowers that will probably do the trick. They start blooming in late summer and can stay happy and alive for the most of the late and early fall.
Japanese Anemone likes to be in the shade, but not 100% of the time. As long as you keep the soil moist, these fall flowers for pots will enjoy an occasional full sun. When winter comes along, just make sure you avoid too much watering.
19. Turtleheads
Your container garden can be enhanced by adding these plants that have a very interesting name to them. Also known as shellflower, snakehead, snakemouth, cod head, fish mouth, balmony, and bitter herb, this perinneal flower is a hardy one, and expects very low maintenance from you.
Even though they can grow well enough in dry soil, it's best to keep them somewhere moist, preferably in full sun, but partial shade can work as well. With minimal effort, this can be a beautiful fall addition to your fall flowers for pots garden.
20. Colchicum
There are several different varieties of Colchicum, but the one particularly fitting the whole fall flowers for pots scene is – Colchicum autumnale. When planting it in your containers, you should make sure the soil is well-drained, and that you place them in full sun or a part shade.
They, of course, bloom in the fall and are perennials. The usual colors of Colchicum are pink and purple.
21. Swiss chard
Even though this one looks like kale with pretty red stems, Swiss chards can actually be grown as ornamental plants, and an extremely low-maintenance one at that.
As it's a biennal vegetable, Swiss chard will bloom with small yellow flowers in its second growing season. This colorful kale needs partial to full sun exposure and rich, moist and well-draining soil.
There are different varieties, one of them called "Five colors" as the stems come in every color of the rainbow, so maybe opt for that one if you want bright and colorful kale for the garden.
22. Goldenrod
If your garden and your planters need a bit of a yellow color in the background, then Goldenrod might be what you're looking for. Goldenrods create quite a scenery with the tiny, fluffy, yellow flowers.
They are perennials and bloom from late summer until autumn frost starts. Goldenrods require to be in full sun, and do great in medium moist and well-draining soil. New plants should be watered weekly, but when mature they are very drought tolerant, and need watering only when our area doesn't get any rain for a long time.
23. Sumac
You may have heard about Sumac as a popular Middle East spice, but did you know that it can actually be beautiful in the fall for your garden? The clusters of red berries that Sumac is known for can last far into winter.
While it is mostly known as a spice, you should be aware that there are multiple types and that not all are edible, or even non-toxic. But, when you use it for ornamental purposes, make sure that your fall flowers for pots are in full sun.
24. Cornflower
Cornflowers are purple and charming flowers that can be full of life and color for many months. If you decide to have them in your planters, then have in mind that they like to be in full sun or a light shade and average, well-draining soil.
However, one of Cornflower's strong suits is that it can grow even in the driest of soils, so if you occasionally happen to forget to water the planters, Cornflower won't mind. These annuals do not need any fertilizer at all.
25. Canna
Canna is a beautiful sight for any garden, with big, colorful leaves, and petals that come in all of the perfect fall shades and colors. Great choice for any fall flower pot, expect the foliage color to develop fully once the temperature goes above 59 degrees.
Make sure you water them quite regularly and they will bloom for the whole summer and well into fall. To have continued flowering, you will need to deadhead your Cannas once the flowers start fading.
26. Verbena
Verbena is always a great choice for fall pots or hanging baskets, it has long-lasting blooms, and can be resilient to both temperature extremes. Different types can be either annuals or perennials.
For best results, have the cute planters with Verbena be somewhere they can get 8 to 10 hours of sun, and when watering them make sure you water only the base and avoid the foliage. Make sure you fertilize it with some slow-release fertilizer after the occasional trims which will be needed for these fall flowers for pots.
Related: What to Do When You Add Too Much Miracle-Gro?
27. Rudbeckia
Rudbeckia, also known as Black-eyed Susan, has the exact aesthetic you see in fall themed advertisement. Once in your garden, you can expect the blooming to happen from June to, appropriately, the end of October.
Rudbeckia thrives in full sun, so make sure you avoid the shades when deciding on a place for your containers. There are no other difficult requirements, as Rudbeckias are plants that do great in a more dry kind of soil.
28. Ornamental Peppers
Peppers are the spicy plants you probably didn't expect as a choice for the best fall flowers for pots, but they are here in their all colorful glory. So, if you run out of ideas on how to create an attractive look for your container plants this autumn season, then the annuals like Ornamental peppers can be the ones.
Ornamental peppers can be found in any autumn color you wish for – yellow, pink, purple, and orange flowers and the foliage is bushy, glossy, and bright green. In some conditions, they can be long-lasting. This one blooms from spring, stays nice through summer, until late autumn when frost starts.
29. Perennial Sage
Perennial sage is what you need in your fall pots if the color purple is lacking. When it comes to weather preferences, this one doesn't have much, as it blooms during every season except winter.
There are also no soil preferences, but make sure you place it in full sunlight. The tubular flowers are a great attraction for hummingbirds, bees, and butterflies, so consider perennial sage if you like to have visitors like these in the summer season.
30. Alyssum
Having these annuals on display can give a really gentle and pure look to any garden. Alyssum blooms in spring and fall, so not too warm weather and a transitional season is its prime time.
During the summer, make sure you are watering your Alyssum a lot, as summer and the dryness it brings can be damaging. The soil should be well-draining and the sun exposure should be full.
31. Asters
Another adorable example of the best fall flowers for pots! Aster is a purple and blue perennial that blooms during summer and fall and loves to be in the sunlight.
If there's less than 1 inch of rain in a week during a season, make sure you're watering the Asters regularly, but if that's not the case then make sure the soil is just enough moist. Also, aster attracts butterflies and can be very fun for the container garden in the appropriate season.
32. Berry Smoothie coral bells
If you want some foliage and some leaves for the fall flowers container garden, but you don't want to add green to it, then this kind of coral bells can be the exact choice you need for your fall garden and pots.
Resembling a vegetable like kale or ornamental cabbage, the last idea in this article is perfectly colored and made to be among the fall flowers for pots in your garden. It doesn't have much preference when it comes to sun exposure, but if you do place it somewhere with full exposure, then make sure to keep the soil from drying out.